Paris Paralympic Games 2024 Packages
28 August - 8 September 2024
The Event
France is hosting its inaugural Summer Paralympic Games in 2024, featuring 22 sports and 549 events from August 28th to September 8th. These Games are the pinnacle for athletes with disabilities, showcasing their excellence and inspiring the world.
As an Australian-owned company, we've served sports enthusiasts since 2016. Join us for the unforgettable 2024 Paris Summer Paralympic Games and experience the incredible atmosphere as athletes display their exceptional abilities.
Stay tuned to learn about the best travel packages, and in the meantime you can send us an inquiry and customize your trip in the best possible way.
Highlights
XVII
edition of the Paralympic Games
184
National Paralympic Committees
Disciplines
•

Blind football

•

Boccia

•

Goalball

•

Para archery

•

Para athletics

•

Para badminton

•

Para canoe

•

Para cycling road
•

Para cycling track

•

Para equestrian (para dressage)

•

Para judo

•

Para powerlifting

•

Para rowing

•

Para swimming

•

Para table tennis

•

Para taekwondo
•

Para triathlon

•

Shooting para sport

•

Sitting volleyball

•

Wheelchair basketball

•

Wheelchair fencing

•

Wheelchair rugby

•

Wheelchair tennis
Paralympic Games Schedule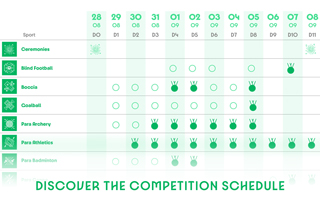 Paris is preparing to host the Paralympic Games in 2024, promising an unmatched level of entertainment. This event will blend French hospitality, cuisine, and creativity with a multicultural sports festival, providing an unforgettable experience.
Other beautiful French cities such as Bordeaux, Nantes, Nice, Lyon, Marseille, and Lille will also play host to events like football, sailing, and handball, contributing to the diversity of the Paralympic Games.
With the Tokyo Games postponed and held in 2021, there is a tremendous surge of interest in the upcoming Paralympic Games in Paris. Accommodation capacity is limited, so take advantage of our Paralympic Games 2024 travel packages, complete with hospitality tickets, to ensure a comfortable and enjoyable stay. Just book your flight, and we'll take care of the rest.
Choose your travel package
Our reviews
Zain Ali
USA

GREATEST TRIP EVER We had the most incredible experience. World of Discoveries made our trip to Qatar for the World Cup so easy and enjoyable. Mike helped us with any questions we had before the trip and anything we needed during the trip. The rest of the staff was so helpful and nice during the trip that it removed any worry we had during the trip so all we had to do was sit back and enjoy the wonders of the trip. I would highly recommend them for use in any trip. By far, this was the best trip I have ever been on and they played a HUGE role in making that the case. GREATEST EXPERIENCE EVER!!!
Michael Morcos
Australia

Qatar World Cup experience was awesome, I travelled in 2018 with Varya and the team with my dad, this time around took my cousin and both times the team went above and beyond expectations. Thank you to the Discovery team. Looking forward to USA, Mexico, Canada or even potentially Asian Cup in Qatar.
Aubrey DeSouza
Australia

World Cup - Qatar Prior to our trip to the World Cup to Qatar, we were given helpful advice to plan the trip with staff of wofdi. The Trip was very organised with good ground support and did not have any problems. The wofdi was always just a "what app" away which was comforting and helpful Aubrey and Marilyn DeSouza
Jorge Oller
Costa-Rica

Our experience with World of Discoveries has been impeccable. From Qatar's World Cup onwards, they will be our #1 choice. Varya, Iren, Nathan, Damon, Iren, Lina; Anna and all the rest of the Wofdi team: Thank you!
Carlos B & Family
Argentina

Very professional people Very professional people, made our stay a great one, everything was according to what was offered in Hospitality Tickets, hotel, transfers and tours I would definately go with WOFDI to the next Fifa World Cup 2026 Vamos Argentina!!!!!! Thank you
Linh Taylor
Australia

We had such a wonderful time traveling with World of Discoveries. We were there for the World Cup in addition to touring. The company did an amazing job at communicating before, during and after. We felt very safe and taken care of our entire stay. We would highly recommend the company.