CONMEBOL Copa América 2024 Travel Packages
14 June – 14 July 2024
Copa América 2024 Highlights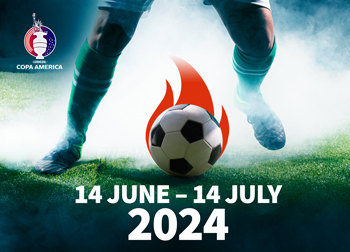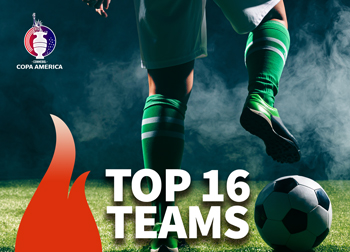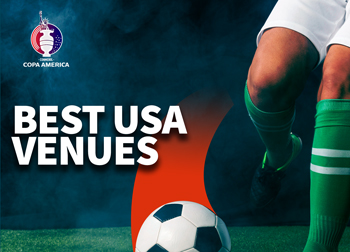 The Event
Are you looking for an exciting sports experience combined with a chance to travel to some of the most gorgeous cities in the USA? Look no further than the Copa América 2024, the oldest and most prestigious soccer tournament in South America, held next year in the United States.

With 47 stagings since its inauguration in 1916, this tournament has a rich history and is an event not to be missed. Eight out of ten CONMEBOL national teams have won the tournament at least once, with only Ecuador and Venezuela yet to win. Argentina and Uruguay hold the record for the most championships, with 15 cups each.

Support your team and witness the likes of Lionel Messi, Neymar Jr, and Luis Suarez in action, as they represent their countries in their quest for victory. Our customizable travel packages cater to your unique preferences, and we take care of everything from the moment you touch down in the USA until you depart, with travel directors in the field and 24/7 support via phone or WhatsApp. Our tours are ideal for soccer fans of all ages, including singles, couples, and families. We can match solo travelers to share rooms and manage costs, ensuring you experience the most beautiful cities in the USA while enjoying the Copa América.

Our focus is on delivering exceptional hospitality packages for prestigious VIP events and experiences. We take pride in our ability to enhance your travel experience and coordinating accommodations, transportation, activities and experiences. As your travel concierge, we will assist and navigate you through complicated hospitality ticketing process.

The schedule for the CONMEBOL Copa América tournament and the opening of ticket sales will be announced by CONMEBOL at a later time. Keep an eye out for updates and remember the dates of June 14th to July 14th, 2024.
Disclaimer
The term Copa América 2023 is used only to describe certain events without the specific permission of CONMEBOL Copa América. World of Discoveries is not affiliated with CONMEBOL, The 2023 CONMEBOL Copa América Cup. Travel packages and services provided by World of Discoveries are independent from CONMEBOL. The official website of The 2023 Copa América Cup is
https://copaamerica.com/
Choose your travel package
Our reviews
Linh Taylor
Australia

We had such a wonderful time traveling with World of Discoveries. We were there for the World Cup in addition to touring. The company did an amazing job at communicating before, during and after. We felt very safe and taken care of our entire stay. We would highly recommend the company.
Jose Leonardo Ramos Mateos

Great experience in Qatar World Cup!!! Great service and support during our trip to Dubai and Qatar for the 2022 FIFA World Cup!!! Helena for the first contact and reservations coordination was just perfect! Michael, Varya, Irena, Anastasia and all the support staff made a great Job and made us feel safe, happy and satisfied with the service and the tours we got. The full tour included welcome party, Desert dinner and show, tour in Dubai and a perfect logistics for travel between Dubai and Qatar. We had no problem with the FIFA hospitality tickets… Simply a perfect and unforgetable trip!!! We will for sure hire World of Discoveries services again soon!!
Susan & James, USA
USA

As avid sports enthusiasts, particularly in tennis, my husband and I have eagerly awaited the opportunity to venture out again after years of staying home due to the COVID situation. We decided it was time to break free and fulfill our dream of visiting France to witness the thrilling Roland Garros tournament. While we typically prefer organizing our own travels, we recognized that exploring a vast country like France warranted the expertise of a travel agency. Our aim was to take a tour that encompassed attending the male semifinal and final matches, as well as visiting Normandy's Landing Beaches, the renowned wine regions of Champagne and Bordeaux, and ending up with a few relaxing days at the beach. After some initial hesitation, we entrusted World of Discoveries (Wofdi) with our travel plans, and it turned out to be a remarkable decision. Wofdi meticulously designed a comprehensive itinerary that not only fulfilled our desires but surpassed our expectations. The knowledgeable guides who accompanied us throughout the journey, the seamless transport arrangements, and the exceptional attention to detail demonstrated by the Wofdi team left us in awe. Looking back on our trip as we now bask in the delightful sunshine of Nice, we can confidently say that every aspect was flawlessly planned and executed. We extend our heartfelt gratitude to the entire team for making our European summer vacation truly unforgettable.
Susan Hutchinson
Australia

From the first time we arrived in DOHA for the World Cup Soccer, we were meet with grace and clean vehicle and great customer service. Any thing we may have required we were given the best scenario. Our transportation the the airport right on time as we wanted to be collected earlier. The Workd Cup Soccer tickets and seating sensational. Our travel agent in Sydney Australia, Oxford Travel Maroubra - Phillip & Christina were able to secure World of Discoveries for us. Any further journeys we require both will be booked through. ??✈️
Zain Ali
USA

GREATEST TRIP EVER We had the most incredible experience. World of Discoveries made our trip to Qatar for the World Cup so easy and enjoyable. Mike helped us with any questions we had before the trip and anything we needed during the trip. The rest of the staff was so helpful and nice during the trip that it removed any worry we had during the trip so all we had to do was sit back and enjoy the wonders of the trip. I would highly recommend them for use in any trip. By far, this was the best trip I have ever been on and they played a HUGE role in making that the case. GREATEST EXPERIENCE EVER!!!
Diana Kammunkun
USA

Best Staff, Great Communication The communication and assistance from the Michael from the beginning, Alex during the pre-tour and post tour and Anna during the tour was better than exceptional; we were well taken care of. The staff truly cared about us having a memorable experience and their efforts greatly contributed to that happening. I'll definitely be looking into their other tours.